Coming up on this October 29th and 30th, the Business of Architecture Summit is the premier online event for small firms and solo practitioners who want to run a better business. I presented at the Summit last year and it was a great experience. I need to sit this one out, in order to focus my energy on the upcoming launch of EntreArchitect 2.0. Enoch and his crew have organized a fantastic line up again this year, so don't miss it!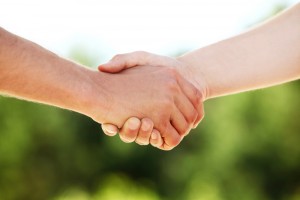 I'm often asked, "Enoch, can I get clients using social media?"
I'm going to answer that question here once and for all. But first, I need to take a couple of steps backward and ask you a question:
What is working for you right now to get clients?
Based on my experience your answer is "word of mouth".
This is as it should be. Potential clients that come as referrals are predisposed to work with us because someone they trust has given us a vote of confidence. It doesn't hurt that these clients are also easier to work with because of the heightened level of trust they have in us.
Business Is About Relationships
Not much has changed about human nature since the first neolithic hunter discovered that working as a team is more effective than trying to kill a mammoth alone. Fast-forward 10,000 years – relationships still matter.
However, we have a massive advantage over our primitive ancestors. Today, with the help of technology, we can start and foster relationships with many more people, more quickly, and on a grander scale, than ever before.
This is where social media comes into play.
The power of social media isn't that it is some new fad or productivity tool. The power of social media is that these new technologies are forcing more and more relationships to be started, and developed online (if you don't believe me, just think of the last time you heard of someone texting their daughter in the next room that dinner is ready).
So how might we use this to our advantage as architects?
Here are a few examples:
Facebook has recently added advertising features that allow you to target people by income level, hobby, job title, and more (this is useful for starting relationships).
LinkedIn is the largest network of professionals online. LinkedIn groups provide a 'virtual space' where you can contribute to the conversation in any industry or field. LinkedIn has the "connection" feature that will let you see who can introduce you to a decision-maker.
Houzz, Instagram and Pinterest, and Periscope are visually rich media that allow you to share your work with the world (at a fraction of the cost of traditional advertising).
Truly, the potential of using these new media tools has not yet been tapped. Will you be the one to surprise us all with your innovative use of these tools?
Perhaps!
The answer to the original question of "Can I get clients using social media", is a resounding yes. Just be sure to take the relationship offline – because no amount of pixels beats the warmth of a human handshake.
Go deep on social media for architects and more at the Business of Architecture Summit.
Photo Credit: Shuttestock / Yeko Photo Studio
Written by Mark R. LePage
Source: Entrearchitect