It is very important to put ourselves "in the shoes" of the people we serve.
We all work to empathize with our clients. As architects, we try to reduce the overwhelm and stress that our clients experience during a construction project. Very often, it's the first time they have experienced such an encompassing commitment. They are spending amounts of money saved throughout years and have expectations learned from often unrealistic sources. It is our job to bring it all together in a successful architecture project.
A few times in our own careers, Annmarie and I have experienced the emotions of our clients first hand.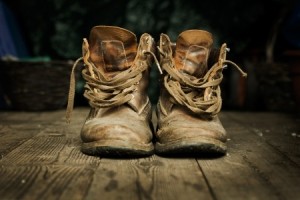 The first time it happened was during the renovation of our home; our own little cottage here in the woods of Chappaqua, New York. When we purchased the 1934 stucco cottage is was a 900 square foot one story house on a hill. It was everything two young architects could dream for. It had incredible character punctuated with a round top front door and a tapered chimney. No changes had been made to the house since the 1970s and all the original 1930s hardware, moldings and light fixtures remained intact. With all that character and detail came decades of neglect, disrepair and a 30 amp electrical service.
We were young, had little money and lots of determination. We upgraded the electrical panel, restored the house back to its original condition and used the house "as is" for several years. The lack of insulation, original 1934 cottage kitchen and very limited hot water was bearable for the two of us, but when our first child arrived, the fantasy of living in the 1930s soon gave way to the realities of living with a new born. It was time for some upgrades… and more space.
We designed an addition that would provide a proper kitchen, a larger dining room and a new second floor master bedroom suite. Calling in a few favors, we had construction under way quickly. The roof came off and the walls torn down… and then it rained… and rained.
It was at that moment when I realized that I was living the life of our clients. As I stood in the basement, looking up through the rafters of a half covered roof, feeling soaked from the rain, I wanted to cry. Our little cottage was dismantled by demolition and the rain was not relenting.
The experience was so overwhelming.
Much like many of our clients, we tried to stay in the house and live through the mess. It took only one week before we abandoned the open construction site for more friendly accommodations with Annmarie's parents.
When the sun returned and we were better situated to live a "normal" life, everything felt better. The house was soon weather tight. The construction progressed smoothly and a few months later we returned to our new home.
Exceptional design and technical skills are expected by our clients. It is difficult to use these benefits as something that makes us unique in the market. The shift to the emotional mindset is one of the benefits differentiating Fivecat Studio from other local firms. We have built a brand that speaks for more than design and technical skills. We have positioned our service as a process of hand holding and managing the emotional "roller coaster" of an overall architectural project. We are guides through an overwhelming and often painful experience.
Ever since the day I found myself among the ruins of my own house, I have worked to better serve our clients from a new perspective. I have "walked in their shoes". I know first hand of the pain they experience and I believe we serve them better for doing so.
Have you "walked in the shoes" of your clients?
Have you experienced the pain of a personal construction project?
Leave a comment below and share your story with our community.
***








Written by Mark R. LePage
Source: Entrearchitect
Photo Credit: lucielang / 123RF Stock Photo